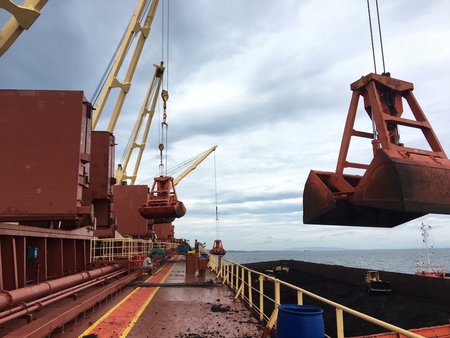 Our Company
Alesta International Limited.was founded in 2011 as privately owned International Ship Chartering Company s core activity is Dry Bulk Transportations. Alesta International Ltd.is here to serve you reliable, on time economical transportation and trade alternatives with qualified and well experienced team.Alesta International Ltd.s first principle is to find the best and the most economical solutions for the mutual satisfaction of charterers and shipowners. We gain stunning friendships rather than customer loyalty. We would like to progress our business based on ethical components and companies s reputations.
Alesta International Limited provide their clients many years of experience and the benefits of well established relationships with reliable ship owners/charterers in worldwide area in general/breakbulk/dry bulk carriers; we focus on coaster/general size ,handy size to panamax size vsl. Our chartering activities cover spot period and contracts of affreightment for charters, operators and owners, handling both competitive and direct/exclusive business. We work hard and smartly to meet the needs of our valued clients to ensure that all shipments are handled reliably, effectively and professionally.
Alesta International Ltd is one of the leading chartering companies in shipping industry with its extensive knowledge and experience of freight markets, maritime law and regulations, ports, seas, vessels and multicultural human relations enabling rapidly designed personalized transport solutions to offer completely integrated dry bulk handling procedures. The corporate culture of the company which depends on relationship and business minded thinking and behaving enables long lasting and strong relations with world renown ship owners, ship managers, reputable world wide multi-national ship brokers, charterers and other counterparts.The company guarantees principled and first-class services by highly experienced brokers while acting as brokers for world wide charterers & owners especially for iron , steel ,cement,raw materials , minerals and other bulk&general cargoes.
Our

Vision
Our team of experienced and highly educated Professional maintains close contact with hundreds of shipowners, charterers and shipbrokers around the world and provide our clients with accurate and up – to date information that enables them to make critical market decisions. It is really a great honor for us that since our establishment, we have acted on behalf of a lot of shipping companies worldwide and our vast experience combined with deep market knowledge, research and negotiating skills have made Alesta International Limited a well reputed name in the International markets

Our

Mission

Alesta International Limited is quick to earn a worldwide reputation as being able to consistently deliver high quality services at a very competitive price.We are giving best and reliable chartering service to our customers with the connected exclusive clients' Furthermore we offer charterers the service of covering their tonnage requirements for all types of break/bulk and containerized dry cargoes in all sizes world wide either on contract basis, single voyage basis, voyage charter or time charter for shorter or longer periods as the case may be.As a representative of a ship's owner we are in constant communication with many owners, operators and agencies worldwide. We are connected with a variety of vessel from general cargo, river types, barges, tween deck, heavy lift vessel, handy to handy max vessel . Finding a suitable vessel or looking for a cargo for a particular vessel is always our daily work.